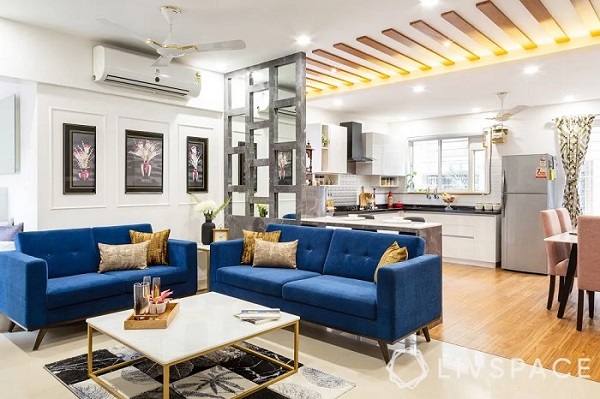 The job of an interior designer is not easy, but there is software that can help designers increase their productivity. If you're looking for a setup software that fully meets your design needs, you've come to the right place.

What is interior design software?

Interior design software is a design tool that helps designers create floor plans, visualize spaces in 3D, and design various aspects of spaces—both for aesthetic and functional purposes. All of this is done digitally to create realistic visualizations of certain spaces. Simply put, interior design tools allow you to visualize and design a space in practice before it can be built.
Some of these software offer very fast execution, lots of customization options, and a simple user interface. The design journey with interior design software usually begins with a well thought out floor plan. It includes a 360-degree representation of a 3D design that changes the look of any room with virtual furniture and accessories, changing the color, texture, and lighting plan of the room.
These tools are among the must-haves for any modern interior designer.
With so many options available, it can be difficult to choose the best interior design software for your design goals. It's always easier to make a list of your choices and see which features best suit your needs.
We have compiled a list of the top 15 interior design software so you can choose the best option for your interior design business. You've probably heard some of these names, and this list will help you compare their benefits and features. You can choose the design software according to your level of experience, space planning, 2D to 3D preferences, floor plans, price requirements and other parameters. Let's see:
Top 10 Best Free evergreen Interior Design Software
1. Foyr Neo®
2. Sketchup®
3. Maya®
4. AutoCAD®
5. Revit®
6. 3Ds Max®
7. Homestyler®
8. Blender®
9. HomeByMe®
10. Planner 5D®
1.FOYR Neo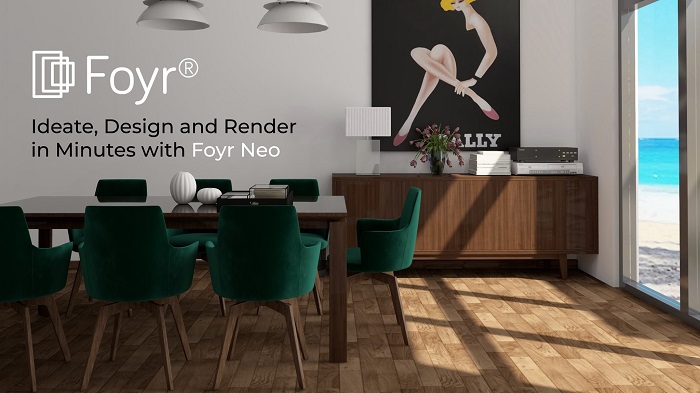 Foyr Neo is probably the easiest interior design software available today. Its features are designed with real-life difficulties and demands of interior designers like you in mind. Thanks to the platform's simple user interface, you don't need any prior training and can start designing from day one.
Neo is also 100% cloud based, which means all projects are stored in the cloud and can be accessed from anywhere. You don't need to download or install any software. One of the most interesting features is the super fast 3D rendering. It can take your project from a floor plan to a finished 4K rendering in less than a few hours. This is much faster than the industry standard!
Users also have access to a library of over 60,000 3D models for use in simple drag-and-drop projects. The simple interface and customization options allow the designer to get down to the smallest details like textures, colors, lighting, etc. All of this makes it suitable for designers of all levels – from experts to beginners.
Download Free Full Version:
Price:
One of the best things about this cutting-edge software is that you get a 100% free 14-day trial. Use this trial period to learn more about the concepts and features. You can continue the design process by choosing from subscription plans starting at $49/month.
2. SketchUp
Another popular interior design software is Sketchup. Professional and practical 3D Sketchup design software. The interface is quite complicated and takes some getting used to, even for professionals. Professionals prefer Sketchup for a powerful 3D modeling experience.
You can create a house design and use 3D visualization to get an accurate picture of space planning. A free version is available, but to use all the professional features, you must subscribe.
Download Free Full Version:
Price: The subscription price is $10/month for beginners, which is only available online with limited design tools. However, for a web and desktop compatible Sketchup Studio professional subscription, it can cost up to $699 per year.
3. Maya
If you are more inclined to create visual tours for your clients, Autodesk's Maya is a great design software. This design software is widely used for creating video games and cartoons due to its smooth transition to movies.
With 3D models for visualization and virtual tours, you can create beautiful presentations for your customers. You can use 3D imaging, simulation, and many other specialized design tools to model high-quality photorealistic space planning. You can also choose various forms of home style models in real time.
Download Free Full Version:
Price: The design software offers a free version that is available for one month, after which you have to opt for a subscription for $215/month. It is quite expensive compared to the Foyr Neo, which provides the same features faster and more efficiently. But for professional interior designers, creating 3D views of all your projects can be rewarding.
4. AutoCAD
If you are interested in interior design and various design software, you may have heard of AutoDesk. This tech company is known for creating a variety of design tools to help you realize design ideas for your own home and clients.
AutoCAD is an interior design software that supports 2D and 3D rendering. It is popular among interior designers and architects. However, it shines the brightest in graphic design and video games. This design software is excellent for designing video games. More than just for interior design.
Download Free Full Version:
Price: Given its popularity among video game designers, this design software is quite expensive. AutoCAD offers a 30-day free trial, after which you have to pay for a subscription starting at $220/month.
5. Revit
Talking about AutoDesk interior design software, you can also choose Revit for your interior design trends and ideas. If you are a practicing interior designer with experience using design tools and software with CAD and CAM experience, you can easily use them to impress your clients. Like other Autodesk design software, Revit is quite expensive but offers additional benefits.
Download Free Full Version:
Price: With subscriptions starting at $320/month, you can create high-quality 3D images and 3D visualizations. Subscriptions run up to $6870/year, which also lets you collaborate with teammates and come up with design ideas together.
6. 3Ds Max
Autodesk must have created some very expensive interior design software to help ambitious interior designers. Most of their design software is more expensive than their competitors, making them a difficult choice for ambitious interior designers and beginners and highly unlikely for homeowners and real estate investors.
But this design software is a popular choice for professional interior designers with a lot of experience. Exclusive 3D visualization combined with the possibility of creating simulations, 3D rendering, space planning, etc. can take your breath away.
Download Free Full Version:
Price: After the initial 30-day free period, you can get a subscription for $215/month.
7. Homestyler
This is a pure interior design software. It not only provides great design tools, but also furniture that you can install to get a more realistic home design.
Designing something to create a flow between modern and classic can be a challenge when you have to imagine everything. You can use Home Styler to design 3D floor plans, 3D visualizations of your room plans, and much more.
Download Free Full Version:
Price: Monthly subscription plans start at $19 and go up to $39.
8. Blender
Easy to use, Blender offers 3D rendering, photorealistic animation, simulation creation, etc. for real-time effects. Don't you find it fun to see your design ideas in high-quality 3D? You can see your layout, space planning and all your design ideas with minimal effect.
Download Free Full Version:
Price: This interior design software is free to use, but if you want to implement additional features, you must subscribe for a very low price of $11.18/month. Additional features allow you to add some more professional effects to your design ideas.
9. HomByMe
This is a home design software for beginners. With HomeByMe you can realize your design ideas and create an accurate 3D representation of the design of your room. The design software is easy to use and helps beginners create photo-realistic 3D views of their room plans. When designing your own home, you can use these interior design tools to your advantage. This home design software works on a project basis.
Download Free Full Version:
Price: You can create up to 5 projects and 3 realistic images for free. You can also opt for a one-time paid plan to create 5 projects, 15 realistic images, and three 360° images for $19.47/month. There's also an unlimited plan from HomeByMe for $35.39/month.
Plus, if you don't have time to turn your floor plan into a HomeByMe project, the team offers the ability to do it for you.
10. Planner 5D
Well, this design software is quite beautiful. If you are an avid designer or love beautiful home designs, then this is a great interior design software for you. He has the ability to create floor plans, get 3D design renderings and various design tools at our disposal.
There is a catalog of over 5000 pieces and you can customize each piece with colors, textures and patterns to create something exclusive.
Download Free Full Version:
Price: Free design software is used for basic virtual floor plans and interior design, but if you want to create photorealistic 3D renderings, you will incur a fee. The Top 10 is only $9.99, but the more renders you need, the more expensive it will be. If you want an easy design option, you can definitely opt for this setup software for free. However, you must subscribe to the extended functionality plan.