If you are working on sheet metal design then accuracy and correct knowledge for sheet metal is always required. If you have are a fresher or experienced the you must follow some important tips for sheet metal design. These tips and guidelines based on industrial experiences and due to reputation of mistakes. These tips will also help you to job interview questions because mostly interviews ask these important sheet metal tricks.
1. Bend Radius
Bend radius is most important factor during sheet metal design. Every sheet metal design must be required the bend feature. Bending is the process to fold the sheet with particular radius and angle as per requirement.
So it also need to understand the how we can decide the of bend radius or the sheet. So as per the standard rules and analysis the inside bend radius must be equals to or more than sheet thickness. For example sheet thickness is 2mm then bend radius can be 2mm or more but not less than 2mm.
2. Bend Orientation
Orientation of bending sheet must be placed in same orientation of the bending tool during forming operation so that the whole sheet will not defect and we can reduce the waste cost. Bending orientation is the most common error in fabrication industries. This tips is vital for beginners to experienced engineers.
Bend height Sheet metal bend height should be at least twice the thickness of the sheet metal plus the bend radius
H=2t + r
If the bend height is too small this will result in deformation and low bending quality.
4. Hole Size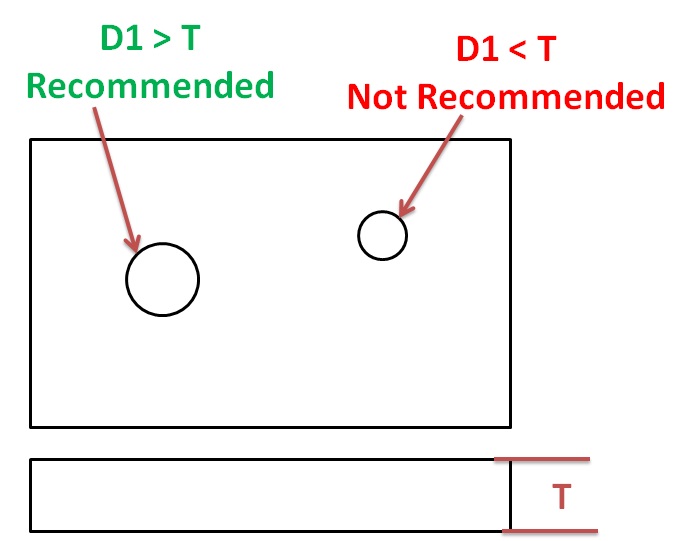 It is always required the size of hole for standard hole making process. If we could not consider correct hole size then sheet metal cause defects to entire sheet. The hole diameter should be equals to or greater than sheet thickness but not less than it.
The hole should be away from curl and edges I.e. distance from side edge to hole is 3 times of thickness and distance between two hole should be at-least 6 times of sheet thickness.
5. Hem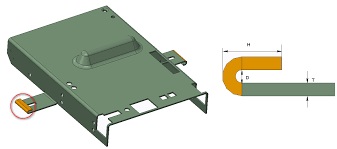 In sheet metal process, hem is use to avoid sharp edges to reduce risk of accidents. It is generally fold the the edges at particular length with bend radius.
The inside bend radius should be at-least equals to sheet thickness and hem length should be at least four times the thickness of sheet.
6. Tolerance for Sheet metal
In most of the cases the tolerance limit always provided by designers but if the tolerance value not provided the we can follow the general tolerance for specific bending operations. In below chart you can consider the tolerance value for different operations.
| | |
| --- | --- |
| Forming and Bending: | +/- 0,4 mm |
| Bend to hole or feature: | +/- 0,2 mm |
| Linear dimensions excluding locations to bends | +/- 0,1 mm |
| Diameters with inserts | +/- 0,06 mm |
| Angularity | +/- 2 degrees |
| Surface roughness | +/- 3,2 micrometers |